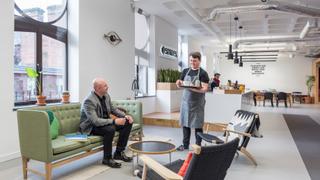 About the office
Nybyggda kontorslokaler med högt i tak, panormafönster och stor terrass med havsutsikt. Spaces Brygghuset är utrustad med passersystem och larm. Privata kontorsrum vån 1 & 2, i storlekar 6-200 kvm. Många kontorsrum erbjuder vacker havsutsikt. Telefonrum, badrum med duschmöjligheter och kök på varje våningsplan. I vår Business Club i entréplan hittar du också vårt trevliga café. Toppmodern och kreativ Coworkmiljö - välj mellan flexibel plats eller egen fast plats. Valfri avtalsperiod.
Amenities
24/7 access

Flexible terms

Furnished offices

Meeting rooms

Parking

Phone booth
Available offers
Hot desk
People

20 desks available
Fixed desk
People

5 desks available
Private office
People

1-12 people

Size

8-40 m²
Private office
People

10-15 people

Size

45-50 m²
Surroundings and area
Vackra och miljöcertifierade fastigheten Brygghuset på Lindholmen öppnade dörrarna på sommaren 2019. Bra parkeringsmöjligheter även för elbilar. Cykelparkering både i garage och utanför fastigheten. Trevlig park och båthamnsmiljö. Bra kommunikationer.
Communications
Gratisfärja mellan Stenpiren och Lilla Bommens hamn direkt till Lindholmspiren. Resan tar under 5 minuter och avgår var 7:de minut under rusningstider. Flertalet busslinjer.