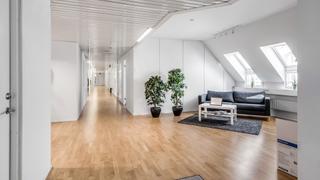 About the office
Välkommen till ett trevligt kontorshotell med mycket bra läge i Östra Sisjön. Vi har rum kvar på 13, 16 och 25 kvm. Kontoren är belägna högst upp i huset vilket en ger fin utsikt över området och ett härligt ljusinsläpp. Med sitt läge i Östra Sisjön kommer du snabbt och smidigt direkt ut på Söderleden som tar dig vidare mot E6, E20 och R40. Bussen stannar med några minuters promenad från fastigheten och går vidare mot Frölunda Torg och Radiomotet som båda är knytpunkter för kollektivtrafiken. Hiss finns naturligtvis, fri parkering i mån av plats invid fastigheten. Kontorshotell är en smart och smidig lösning med kort bindningstid, perfekt för dig som är nystartad eller som tröttnat på att ha kontoret hemma. Vi erbjuder tillgång till gemensamt konferensrum, pentry och WC. Internet och kaffe ingår i hyran. Kollegor får man på köpet. Välkommen att kontakta oss för mer information och visning.
Amenities
24/7 access

Furnished offices

Meeting rooms

Parking

Shower

Cleaning
Available offers
Private office
People

1-8 people

Size

9-40 m²
Private office means access to a separate room, usually at a serviced office, coworking space or at another company.
Details
Contract type

Subleasing

Security deposit

3 monthly rents

Payment period

Monthly payments

Termination notice

6 months

Allows VAT-exempt businesses

Yes
Surroundings and area
Fastigheten är belägen i Högsbo-Sisjöns industriområde. Högsbo-Sisjö industriområde är ett av Nordens största företagsområde. I det expansiva området finns hög tillgänglighet till all önskvärd service. Sisjön är under utveckling och "nya Sisjön" börjar att ta form, vilket kommer att innefatta nya handelsytor och kontor.
Communications
Högsbo-Sisjön har ett unikt läge genom närheten till de stora trafiklederna. Via Söderleden kommer man direkt ut på E6 till Oslo-Malmö eller E20 mot Stockholm. Lika lätt är det att via riksväg 40 ta sig till Landvetter flygplats, Borås och Jönköping. Från hållplatsen "Sisjö Kullegata" går buss nr 88 mot Frölunda Torg, buss 186 till Sävedalen via Korsvägen och buss 182 till Marklandsgatan.