Rent office at WeWork
WeWork is a company where all types of businesses thrive: from freelancers to satellite offices with salespeople, sole proprietorships to Fortune 500 companies, tech companies to financial advisors. The space that is rented out is comfortable office space with the customer in mind. Wework offers flexible contracts and all inclusive facilities that make it easy to set up.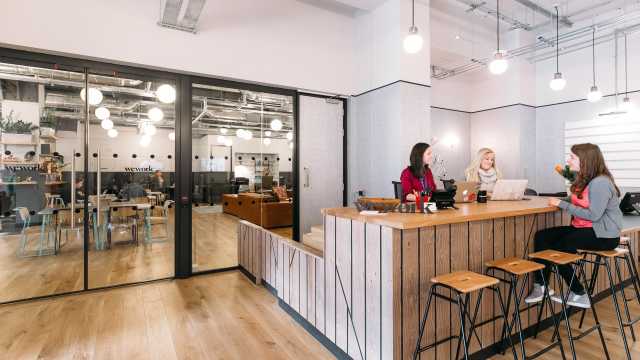 WeWork Malmskillnadsgatan wants, and succeeds in being, a creative oasis in the middle of the city. WeWork is one of the largest companies in the world when it comes to coworking space and it is exciting that they are now also establishing themselves in Sweden. They are known for promoting networking among their many tenants worldwide. Another advantage is that both the contract and their premises are very flexible. The idea is that you should be able to customize the premises according to your business, even if it changes often.
WeWork offers move-in ready offices or custom-made space for large companies anywhere in the world. You have the option of payment plans that give you optimal flexibility and the ability to find a Hot Desk or meeting room when and where you need it - from pay-as-you-go membership to unlimited global access.
FAQ
Does WeWork have flexible terms / agreements?
Can I book meeting rooms at WeWork?
Where can I make private phone calls at WeWork?
Are the offices at WeWork furnished and ready to go?
Will I have 24/7 access to WeWork?
Can I bring my pet to WeWork?