Rent office at The Park
The Park was founded in 2004 and is one of Stockholm's oldest co-working spaces with three locations at attractive addresses. Today, they house about 1,000 members from different industries such as health coaches, speakers, tech companies, architects, and more. The Park can offer flexible work spaces, lounges, conference and meeting rooms, and event venues.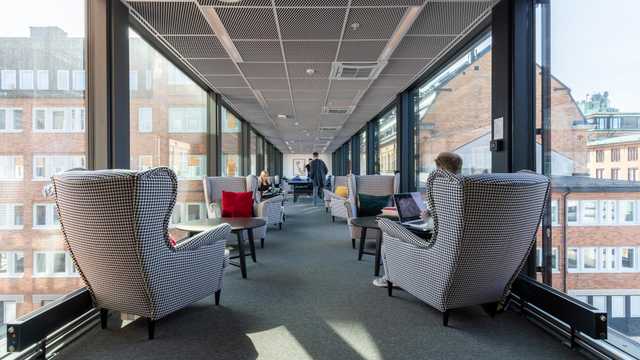 The idea for The Park was born in 2002 when the founder of the coworking space, Mikael Ahlström, was looking for a location for his then film company. He found a small studio apartment on Sveavägen with an attic feeling and a balcony that unfortunately was put together with the building's inner staircase. To rent the studio, he also had to rent the space next to it, which became economically unsustainable. The idea of renting to other companies was set in motion - a project that went unexpectedly well, which led him to rent several floors thereafter and thus The Park was born.
Today, The Park is a popular community where the company wants to contribute to creativity and community through various activities. This has been extremely successful and among other things, the members voted The Park Södra as the winner in the category "Coworking Space of the Year" i.e. the coworking space that has had the most satisfied members during 2021.
The Park's values ​​of an inspiring, creative and inclusive workplace are reflected in their facilities where regular ping-pong tournaments, Friday breakfasts, member's lunches, lectures, workshops, conferences and various events are held.
FAQ
Does The Park have flexible terms / agreements?
Can I book meeting rooms at The Park?
Where can I make private phone calls at The Park?
Are the offices at The Park furnished and ready to go?
Will I have 24/7 access to The Park?
Can I bring my pet to The Park?