Rent office at Convendum Stockholm
Convendum has coworking spaces and private offices established in several addresses in Stockholm and Gothenburg at the best business locations. At Convendum, you can choose between lounge and coworking areas or the private office concept. When you rent an office or coworking space, you have access to a gym, manned reception, free coffee, high-class office furniture, and arranged social activities and exclusive events.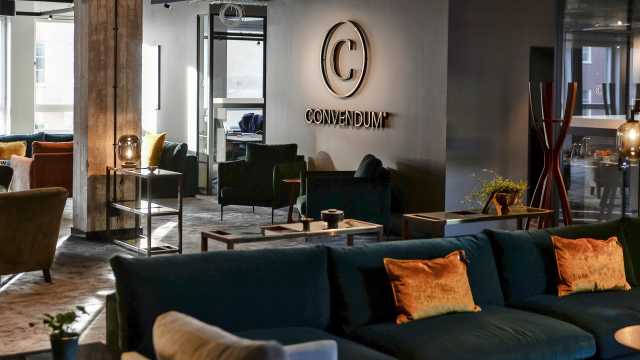 As a member, you have access to all of Convendum's locations, 24/7. Vary your work space from lounge to activity-based open coworking spaces depending on the day's tasks and mood. You will have a personal locker where you can store your belongings and the membership includes a gym, WiFi, printing and breakfast every weekday. You also have the opportunity to book conference rooms, and if needed you can add a private office.

Convendum's membership options give you the flexibility to choose how, when and where you work. Get access to their extensive global network of business lounges, coworking spaces or offices. You are welcome to visit any office hotel when you need a place to work.
FAQ
Does Convendum have flexible terms / agreements?
Can I book meeting rooms at Convendum?
Where can I make private phone calls at Convendum?
Are the offices at Convendum furnished and ready to go?
Will I have 24/7 access to Convendum?
Is there a parking lot at Convendum?
Business facts about Stockholm municipality
Our customers' opinions are incredibly important to us as we move forward. We always strive to deliver the best service and meet our customers' expectations and needs.
Business climate
The business climate in Stockholm ranks 111th out of 290 municipalities.
Municipal tax
The average municipal tax in Stockholm municipality is 29.82%.
Entrepreneurship
15.70% of Stockholm's population are entrepreneurs.
Education
42.40% of Stockholm's population has a post-secondary education.
Establishment
7.40% new businesses per 1,000 residents in Stockholm municipality (2019)
Business promotion
Stockholm municipality ranks 239th out of 290 municipalities in terms of municipal politicians' attitudes towards entrepreneurship.
Services
Stockholm municipality ranks 234th out of 290 in terms of service and treatment of businesses.
Competent labour
Stockholm municipality ranks 134th out of 290 in access to competent labour.