Rent office at 7A Stockholm
7A offers office solutions with full-service and conference facilities at four attractive locations in central Stockholm. Known for their flexibility, professional staff and welcoming environment, they have a vision of creating an experience beyond the expected. As a tenant at 7A, you have the opportunity to move freely between four facilities in Stockholm city - as much as you want.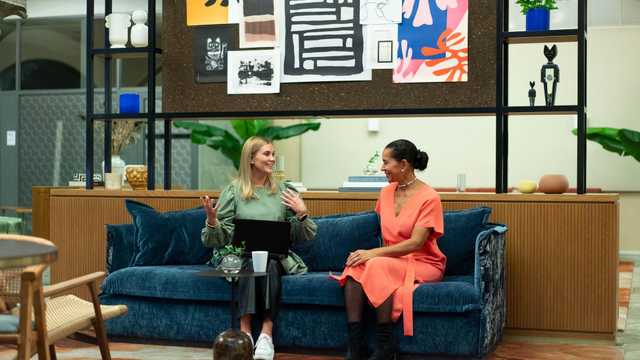 7A's flexible contracts always make it possible to adjust the office space as your business changes. At 7A, you only rent the space that matches your needs and avoid paying for unnecessary square footage.
No matter which of 7A's four facilities you choose, you can look forward to stepping into the office every morning. Here, they want your workplace to inspire and encourage creativity. 7A's idea is therefore to create ergonomic office solutions in flexible and stimulating environments. Whether you're at 7A Strandvägen, 7A Odenplan, 7A Centralen, or 7A Posthuset, you can expect the same high standard and exclusivity in both office, public spaces and coworking lounges.
7A loves creating successful meeting experiences and offers around forty flexible meeting rooms in various sizes and environments. Here you can arrange everything from board meetings, training and conferences to grand private parties with mingling, dinner and entertainment. There is also the opportunity to arrange digital meetings and events. Welcome!
FAQ
Does 7A have flexible terms / agreements?
Can I book meeting rooms at 7A?
Where can I make private phone calls at 7A?
Are the offices at 7A furnished and ready to go?
Will I have 24/7 access to 7A?
Can I bring my pet to 7A?
Business facts about Stockholm municipality
Our customers' opinions are incredibly important to us as we move forward. We always strive to deliver the best service and meet our customers' expectations and needs.
Business climate
The business climate in Stockholm ranks 111th out of 290 municipalities.
Municipal tax
The average municipal tax in Stockholm municipality is 29.82%.
Entrepreneurship
15.70% of Stockholm's population are entrepreneurs.
Education
42.40% of Stockholm's population has a post-secondary education.
Establishment
7.40% new businesses per 1,000 residents in Stockholm municipality (2019)
Business promotion
Stockholm municipality ranks 239th out of 290 municipalities in terms of municipal politicians' attitudes towards entrepreneurship.
Services
Stockholm municipality ranks 234th out of 290 in terms of service and treatment of businesses.
Competent labour
Stockholm municipality ranks 134th out of 290 in access to competent labour.