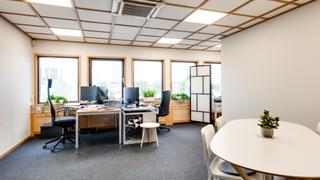 About the office
Nu har vi ett ledigt rum i vårt kontorshotell på Backaplan. Med närhet till bussar och spårvagnar tar du dig på ett enkelt sätt till och från arbetsplatsen. Stort utbud av butiker och restauranger finns direkt utanför dörren. Kontorshotell är en smart och smidig lösning, perfekt för dig som är nystartad eller som tröttnat på att ha kontoret hemma. Kontorsrummet ligger ovanför butikerna på Backaplan och man delar WC, pentry och matplats med övriga hyresgäster.
Amenities
Parking

Cleaning

Kitchen/Kitchenette

Lounge
Available offers
Private office
People

1-4 people

Size

17-18 m²
Private office means access to a separate room, usually at a serviced office, coworking space or at another company.
Details
Contract type

Subleasing

Security deposit

3 monthly rents

Payment period

Monthly payments

Termination notice

6 months

Allows VAT-exempt businesses

Yes
Surroundings and area
Nya Backaplan blir en viktig pusselbit för att knyta ihop staden över älven. Med en utveckling mot en blandning av bostäder, service, kontor och cityhandel blir Backaplan Hisingens centrum. Backaplan på Hisingen i Göteborg är ett av Sveriges största handelsområden. Handeln upptar omkring 110 000 kvadratmeter och handelsområdet har 3 500 parkeringsplatser. Det finns över 120 butiker på Backaplan, restauranger och kaféer medräknat. Här hittar du allt du behöver inom bekvämt avstånd.
Communications
Backaplan har ett unikt läge alldeles norr om Göteborgs stadskärna. Infrastrukturen kring området är mycket god och det är lätt att ta sig till Backaplan oavsett färdsätt. Vägnätet är väl utbyggt kring området och Hjalmar Brantingsplatsen, som är Backaplans hållplats, är Göteborgs näst största knutpunkt med ett mycket stort antal busslinjer och fyra spårvagnslinjer. Även den som färdas till fots eller cyklar tar sig lätt till Backaplan. Det finns gott om cykel- och gångbanor till området