Rent office at Stayaround
Stayaround has been running coworking spaces in Stockholm since 2017 and has enabled over 300 companies to rent cost-effective and flexible offices. The goal is to give companies the opportunity to take part in a strong community and a large network in various industries. Stayaround's strength is that they can quickly scale up and down facilities. Since 2017, they have helped 7 property owners to rent out over 33,000 square meters.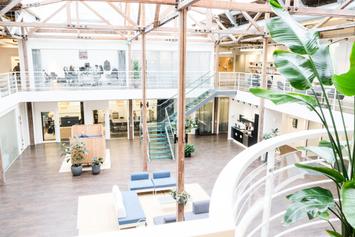 Stayaround doesn't have any active offers right now
Compare offices easily with Workaround. We negotiate prices and tailor office spaces for your specific needs.
Find similar offices
About Stayaround
You can find Stayaround in four different locations in Stockholm; Medborgarplatsen, Frihamnen, Arenastaden and Sundbyberg.
At Medborgarplatsen you will find Södermalm's newest coworking addition. A stone's throw from restaurants, food halls, shops and communications! Here you will find a wide range of nice restaurants, cafes, shops and gyms. Rooms with views of the lush Fatbursparken or the pulsating Medborgarplatsen.
In Frihamnen - in the middle of the mecca for production companies - you will find Stayaround, located in Magasin 3. A good location for those who want to sit in a unique location with great light and proximity to the harbor. Here sits a mix of companies from different exciting industries.
In the old SEB building you will now find Ursvik Entré. A coworking space that has developed into an office hub with an international vibe over the past year. The office here is more than good for entrepreneurs around the Sundbyberg / Solna / Rissne area. Here you get a lot of space for great prices!
600

Desks

Stayaround currently has a total of 600 desks.

4

Locations

Stayaround currently has 4 locations in Sweden.

1 000+

Tenants

Stayaround currently has more than 1 000 tenants in Sweden.

11500 m²

Total office space

Stayaround's total office space today is 11500 m².